Welcome to our locksmith prices page! Here's a list of our most common locksmith services and a general idea of what they might cost. In case you have any questions regarding the prices, feel free to give us a call and we'll do our best to provide you with a flat-rate for your specific request.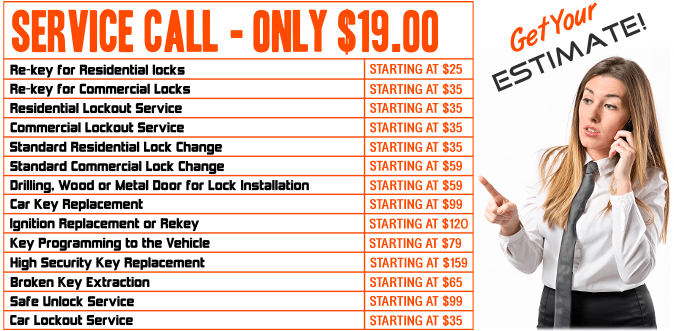 One of the most common questions we get here is "how much does a locksmith cost?" Well, this is a very hard question for any mobile locksmith to answer over the phone.. As you all probably know, there are hundreds of locking system types and manufacturers. So every problem is different and requires its own special way of resolving it. In addition, each lock we come across has his own level of security and an own unique way to unlock it.
Time Is Always Important!
Just like everybody, we are in a hurry. The time it takes our locksmith to unlock your car or rekey your home lock will influence the final price. On some cases, the lock would be very easy to crack, so the locksmith price would be fairly low. What do we consider easy? Great question. Usually, if the technician will take only a minute or two to unlock a door, the job was quite simple. On the other hand, some locks are much more complicated and the service might take a few hours.
Locksmith Prices vs. Service Call Fee
Sadly, some locksmiths take advantage of innocent clients who are unfamiliar with the difference between actual locksmith prices to the standard service call fee, charged by any mobile business. The service call fee is for the technician's time, gas and effort traveling to your address. But that's not all.. If necessary, our locksmith can offer you security consultation and assessment for your precise needs. Once he's done with his review, you'll get a sense of the locksmith prices requested. Contact us at (704) 702-0194 today to find out more!